Panel of experts advises authorities to reopen schools and allow regions with few coronavirus cases to hold sporting events
Meanwhile, an infectious disease official has credited Japan's 'sheep mentality' as one factor that has helped to keep the nation's fatalities low
Japan's northernmost prefecture of Hokkaido lifted its state of emergency on Friday morning, as the country moves to return to some semblance of normalcy while maintaining restrictions on arriving travellers amid the coronavirus outbreak.
An expert panel guiding Japan's coronavirus response recommended late on Thursday that schools in some regions could be reopened but that large gatherings and enclosed areas that could reignite the contagion should still be avoided.
The infectious disease experts made no reference to the Tokyo Olympics, expected to start from July 24 but which have been cast into doubt by the coronavirus pandemic and the cancellation of sporting events and qualifiers around the world.
The panel recommended that areas of Japan with low numbers of coronavirus cases can consider resuming classes and sporting events, and said that the increase in cases appeared to be slightly decreasing. The schools have been closed since early March.
Empty sports stadiums in Japan amid coronavirus outbreak lead to concerns for Olympics
Shigeru Omi, a panel member and president of the Japan Community Healthcare Organisation, said that in areas with little sign of the virus, reopening schools and gradually returning to normal activities could be considered, though strict vigilance was needed.
"We are insisting on very strict criteria if organisers decide to hold big-scale events," Omi told a late-night news conference that spilled into Friday. "And if those criteria can't be met, the event should be postponed or cancelled as soon as something doesn't seem right."
Asked specifically about the Olympics, another member said the panel did not discuss them. "To prevent the spread of the virus – that's what we discussed," said Takaji Wakita, director general of the National Institute of Infectious Diseases.
Kazuhiro Tateda, president of the Japan Association of Infectious Diseases and a member of the committee, said earlier on Thursday that the panel believed the country had "done quite well" over the past two to three weeks.
"We are getting to the point at which we can say that, generally, it is under control," he told the Post.
"But we do recognise that there are some areas – Aichi and Hyogo Prefectures, as well as Tokyo – where there have been some unlinked clusters, and that is, of course, a concern," he said. "Otherwise, it is going quite well – but we still have to be careful for another couple of weeks or more."
Japan has more than 900 confirmed patients, not including some 700 cases from the Diamond Princess cruise ship that was quarantined in Yokohama last month. A total of 32 people in Japan have died. Hokkaido prefecture has the most number of cases, followed by Aichi, Japan's central industrial heartland where the city of Nagoya is located.
The mindset of Japanese people, generally speaking, is to follow the government's instructions in a crisis.Kazuhiro Tateda, infectious disease expert
A cluster of cases in Nagoya have been linked to an elderly day care facility, underscoring the difficulty of shielding senior citizens from the outbreak in a country with the world's oldest population. Aged care facilities have been linked to coronavirus outbreaks in other countries including Australia, Italy, South Korea, and the United States.
Tateda cautioned that there would inevitably be more deaths from the disease, but said he believed that Japanese "national traits" had helped keep the number of fatalities lower than elsewhere.
"It is not completely clear why this is happening, but in the 2009 flu pandemic, Japan had the lowest mortality rate in the world so we have seen this before," he said.
"I think that the mindset of Japanese people, generally speaking, is to follow the government's instructions in a crisis," he said.
"That's a characteristic of Japanese people and you might call it a 'sheep mentality', but in this case it has been helpful. Citizens were worried and they did what they were told – they wore face masks to prevent the illness spreading, they washed their hands, they gave each other space on trains, they worked from home and they tried to minimise contact with other people."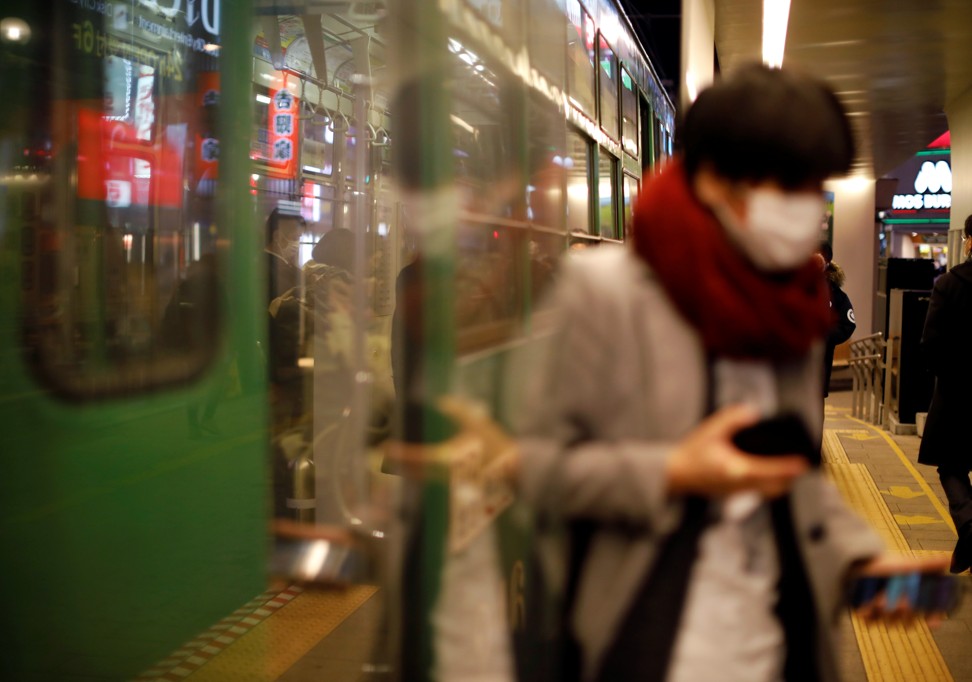 A passenger wearing a protective face mask alights from a tram in Sapporo, Hokkaido, on February 25, 2020. Photo: Reuters
There is another possible explanation, however, Tateda believes.
"It is possible that most people have already been infected with the virus and that the majority of the population has built up a herd immunity," he said.
"These people may have been infected insidiously and have no symptoms at all, or perhaps just the symptoms of a mild cold," he said. "That is something that we will need to look into in the future."
In Hokkaido, many cases were linked to the Sapporo Snow Festival held in early February.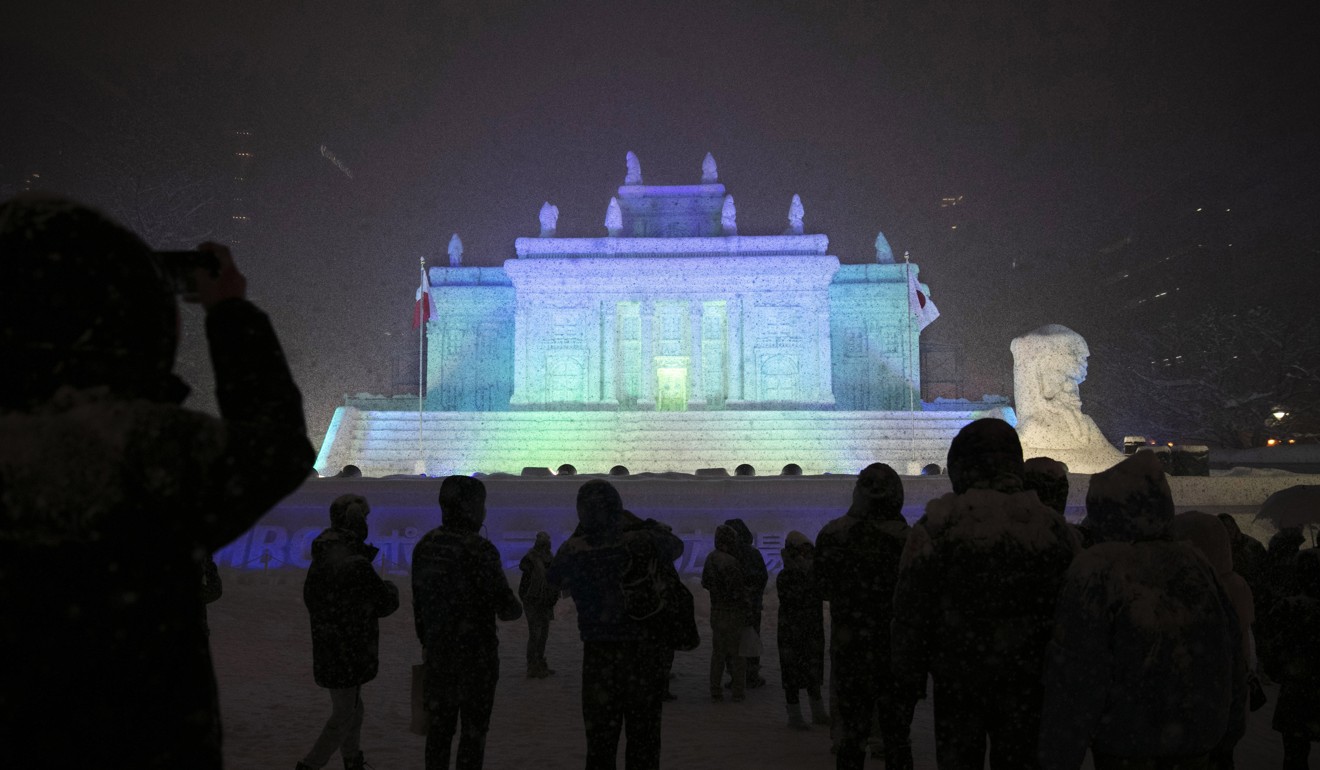 The Sapporo Snow Festival drew some 2 million visitors to Hokkaido in February. Photo: AP
The event attracted more than 2 million people to the city, with local health authorities required to treat a Chinese tourist from Wuhan in Hubei province – where the first infections were reported – who had contracted the illness before arriving in Hokkaido.
A state of emergency was declared in the province in end-February, and while it was not legally binding, people followed the governor's orders to stay home.
On Thursday, the prefecture's governor, Naomichi Suzuki, said a worst-case scenario had been averted and it was time to lift restrictions.
Yoko Tsukamoto, a professor at the Health Sciences University of Hokkaido, said people were worried about the economy. Restaurants, bars, stores and entertainment facilities have struggled to attract customers and smaller businesses say they could go bankrupt.
Hokkaido was popular with tourists, especially those from China, but the latest figures from the Japan National Tourism Organisation showed that overall, tourists coming to Japan fell by 58 per cent in February. There was a steep drop in visitors from China and South Korea, which fell 88 per cent and 80 per cent, respectively.
Japan's government introduced a ban on foreign visitors from Hubei province on February 1 and the number of South Korean tourists was already sharply declining from 2019 amid heightened trade and political tensions. Travel bans have since increased globally, with Japan expanding its restrictions on travellers on Thursday. Those arriving from 38 countries, including all 27 European Union member nations, will have to quarantine themselves for two weeks.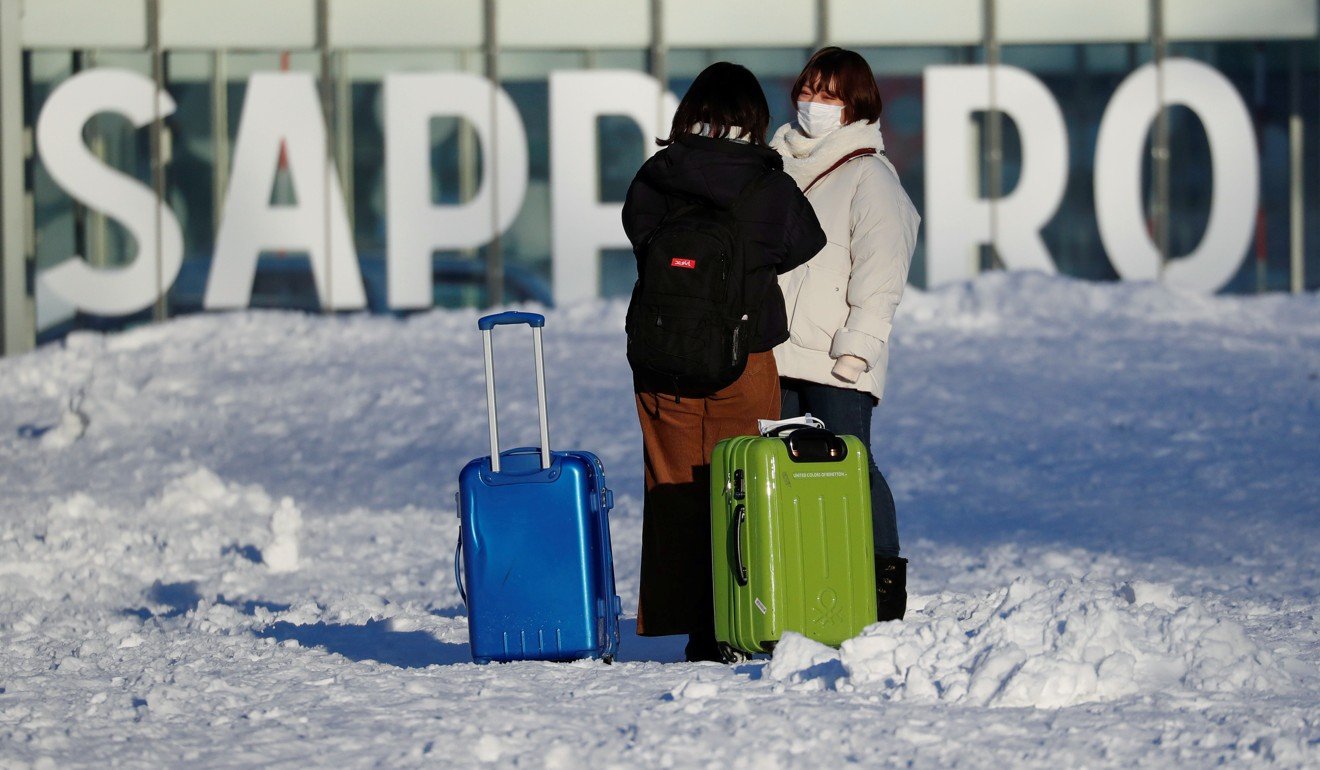 Tourists coming to Japan fell by 58 per cent in February 2020. Photo: Reuters
Tsukamato said the number of new infections in Hokkaido had held steady and while everyone needed to be careful, it was important to "balance the concern over the illness with concern over people's livelihoods".
"My feeling is that we simply cannot live in a state of emergency indefinitely, so we try to go back a little closer to normal and, if infection rates go up again, then we have a rethink," said the expert in infection control for nurses.
"It's going to be a case of trial and error because this is a new virus and we do not know exactly what we are up against and what is going to happen in the future."